Meet Our Staff
Meet Our Staff
Jon Huffine
I am the Owner, and Custom Jeweler. I first started making wire jewelry and enamel with my mom when I was in Jr. High. I worked at Roger's Jewelers as a Custom Jeweler, Designer and Diamond Setter. I completed the Gem course and Diamond and Diamond Grading course at GIA (Gemological Institute of America) and have taken hand-engraving and multiple courses from different designers and fabricators. I taught jewelry making at UC Davis. Every 6 months to a year, I take jewelry corses to make sure I keep up with this ever changing and growing industry. With the jewelry industry constantly changing, I believe you have to be constantly learning to stay in the forefront!
Shanda Odell
I am the Manager here at DJ's Jewelry. I have been with DJ's off and on since I was tweleve. In July 2004, I began working here full-time and since then I have learned a lot of new things. I have earned my CPAA from the Cultured Pearl Association. I have completed my AJP, as well as the Diamonds and Diamond Grading course at GIA. I am currently conintuing my education with GIA working toward my GG. It seems like there is always something new to learn. "If your Not asking Why? What? or How? Your Not moving forward!" Right?
We all wear many hats here at DJ's. Mine currently include helping you design your Dream Jewelry, creating Repair Quotes, Purchasing Jewelry for our show cases, Appraising Jewelry for Insurance, Managing our Social Media, Marketing/ Advertising. But my favorite part of working here at DJ's Jewelry aside from working with all of you Wonderful Customers, is getting to spend so much time with my wonderful family. Family is after all the worlds greatest treasure! And my famliy can help you find any Jewelry Treasure you are dreaming of! Come see us Today!
Aleasha Newell
I am the Sales Manager. I have been with DJ's since 2001, but jewelry has been in my life for as long as I can remember. My family has owned DJ's Jewelry since a year before I was born. I love having the opportunity to work with wonderful people such as my family and the extraordinary people that come through our doors. I have a passion for jewelry whether we are talking about Diamonds, Colored Gem Stones, Pearls, or anything else that is jewelry, I love it.
I am in charge of making the store run as smoothly as possible and am currently the store's Re-Stringer (or Stringer; depending on the project), Custom Designer, and Jewelry Specialist. I have my earned my AJP from GIA and my CPAA from Cultured Pearl Association. I am currently conituning my education with GIA, beacuase jewelry is an ever growing industry and I love keeping you updated on the latest and the greatest in this Amazing Industry! Where else can you travel the World with what you are holding?
"Trying to save the world from ugly jewelry, one Spectacular Diamond at a Time!"
Jonny Huffine
I am a Jewelry Specialist and Custom Jewelry Designer at DJ's Jewelry. I have my CPAA from the Cultured Pearl Association. I have worked here with my family since I was twelve and really enjoy working with all the wonderful people who come into our store. My favorite part of working here has to be, helping make jewelry into memories. I can't wait to help you mark your next special memory with a wonderful peice of jewelry from us.
"I turn husbands into Heroes."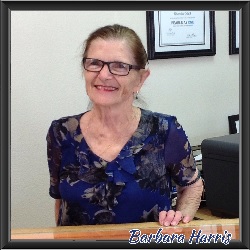 Barbara Harris
I am an assistant here at DJ's Jewelry. I love getting to see all of my wonderful friends; old and new. If we are not friends yet, I look forward to becoming friends with you. The jewelry business is constantly changing and I enjoy being able to be involved in all the new innovations that are constant at DJ's Jewelry.

Michelle Huffine
I am the Bench Jeweler. I've been here at DJ's Jewelry since 1990. I started on the sales floor, and eventually moved my skills to the jewelry bench. I started with basic jewelry repairs and am now working my way into setting gems stones and custom jewelry fabrication. I am one of DJ's three bench jewelers. I do all kinds of repairs on all kinds of jewelry! It is nice working in such an interseting line of work. Life is full of interesting challanges.
My favorite thing about DJ's is one of God's greatest gifts to me -- getting to work with my family.
I look forward to learning and growing in this unique industry!
Sean Odell
I am a Bench Jeweler/ Jewelry Specialist at DJ's Jewelry. I have the pleasure of working out front with all of you and being able to help you pick out your next treasure. I also get to work in the back with the repair side of the business restoring some well loved pieces.
The most enjoyable part of working here is getting to be around my wife.
I can't wait to see what we do next.