Antwerp Diamonds
Diamonds from Antwerp, Belgium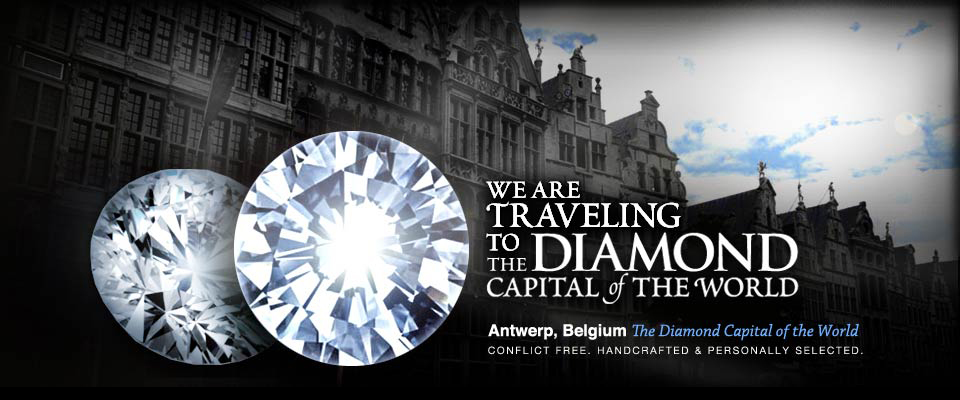 Antwerp, Belgium is the Diamond Capitol of the world. Since the 1400's it has been one of the major Diamond trading centers. They started as a trading center for small diamonds to jewelry manufacturers and have evolved to cutting larger and fancy cut diamonds. By the 1980's Antwerp had become "The" place to find the most beautiful, high-quality Diamonds at the most competitive prices. While other markets of Diamond cutters have added to the industry and found their niches, most Larger and Fancy Cut Diamonds still travel through Antwerp, Belgium.
DJ's Jewelry travels to Antwerp, Belgium in order to bring you the best prices on the most incredible Diamonds. Our Diamond Experts have the opportunity to inspect and hand-pick each Diamond, selecting the most beautiful combination of Clarity, Color, and Cut to offer you the best quality for your money.
When we visit the Diamond Houses in Antwerp, we shop for pre-cut Diamonds. We get to inspect the Diamonds that have just come from the cutters. They have not yet been graded based on quality. This allows us to sort through thousands and thousands of Diamonds; varying in size, shape, color, and clarity before they have been assigned price based on their unique qualities (ie – Clarity, Color, Cut, and Carat). Allowing us to find you the best possible Diamond and the best price.
Whether you are looking for the perfect Diamond to symbolize your Engagement, a Special Wedding Anniversary Gift, a Self- Purchase (because you ARE worth it), or to Up-Grade the Diamond you have currently to a Bigger, Prettier Diamond, we would love to search for you! You can pre-order your Diamond before we leave on our next trip and we will hand-select the Biggest, Prettiest Diamond that fits in your budget. Or you can come in today and see what we have in store from our last trip.
Either way, at DJ's Jewelry we would LOVE to help match You with Your Perfect Diamond!
*We proudly comply to the Kimberley Process; which prevents Conflict Diamonds from entering the Diamond trade, and by doing so, we can import Conflict-Free Diamonds into the United States. *