About DJ's
About DJ's Jewelry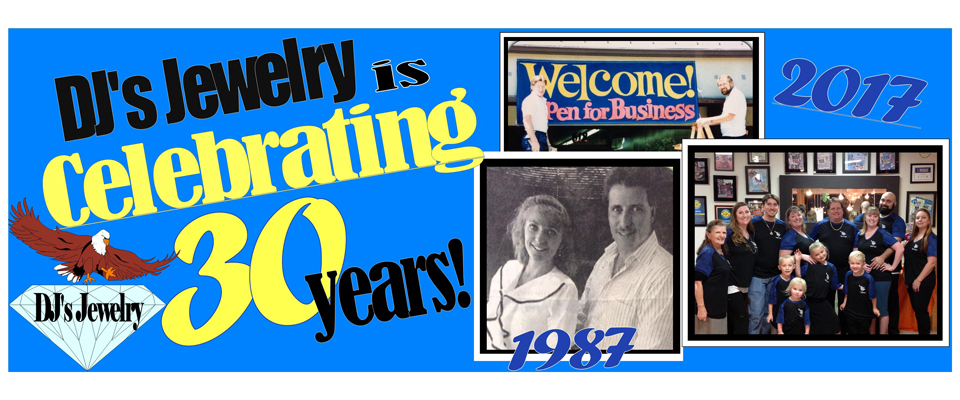 DJ's Jewelry was originally founded by David Rexroat and Jon Huffine. That is where the 'D' and 'J' come from in DJ's Jewelry. We opened our doors for business for the very first time on July 27, 1987. We where in a different building in the shopping center, but located in the same parking lot as we are in today. In 1987 DJ's was in a much smaller 900 square-foot building, and Jon was the sole Jewelry Specialist and Bench Jeweler. There were only three display cases when we opened, two of Gold Jewelry and one of Silver Jewelry. Soon, thanks to all of our loyal customers, DJ's grew and expanded the services they offered, which resulted in the need to move to larger quarters.
In the early '90's DJ's moved to a slightly larger building (also in the same shopping center) at 1500 square feet. DJ's brought in two more Jewelry Specialists (one of whom was Michelle Huffine--Jon's wife) and a larger variety of very Fine Quality Jewelry. These changes allowed Jon the capability to take in even more Jewelry repairs and increase his Custom Jewelry-making projects. At this point in DJ's Jewelry's growth, it was time for David to retire from the store and Jon became the sole Owner of DJ's Jewelry. With all the growth and changes, DJ's once again needed larger accommodations!
In 1995 DJ's moved into our current building. We occupied approximately 1800 square feet this time, which was about half of our building. We wanted to be able to offer our customers as much of a variety of beautiful Jewelry as we could, so we added even more jewelry and jewelry display cases. It was at this store that DJ's Jewelry was invited to become members of IJO (the International Jewelers Organization). Accepting this invitation allowed DJ's to make new connections that allowed us to offer lower prices on the higher-quality jewelry we like to sell and granted us invitations to the Elite Diamond and Gem Houses; to which most jewelry stores do not have access. We now travel to Antwerp, Belgium to find the best prices on the biggest and most spectacular Diamonds available. As well as attend bi-annual training that allows us to find out about the latest and greatest tools and techniques that have been developed and discovered in the Jewelry Industry. This is where we learned about and decided to bring in our very own Jewelry Laser which allows us to work right next to the most delicate of gemstones and designs without worry of overheating or melting them. Having the laser has opened up all sorts of new possibilities--enabling repairs and custom work to be done now that were not possible before. We want to provide our customers with the best possible service and craftsman ship we can and IJO has definalty been a good addition to our store allowing us to expand what we can offer you.
In 2006, we were ready to grow again -- thanks to all our wonderful customers' support and loyalty. We expanded to the second half of the building we are currently in and redesigned the interior for a whole new look. Our square footage has increased to 3000 square feet and we now have seventeen jewelry display cases. We specialize in Spectacular Diamonds and Custom Jewelry design. We do our very best to bring Gorgeous Unique Jewelry to our customers' fingertips.
On July 27th of 2017 we Celebrate our 30th Year in Buisness. We are very Thankful and Excited for it! Thank you to all of you Wonderful and Loyal Customers that have kept us here, growing, and continuing along this wonderful journey. We look forward to Many more Wonderful Years together and seeing what will come next in this journey with you!